DAB-XPlorer
A set of tools to analyse DAB data streams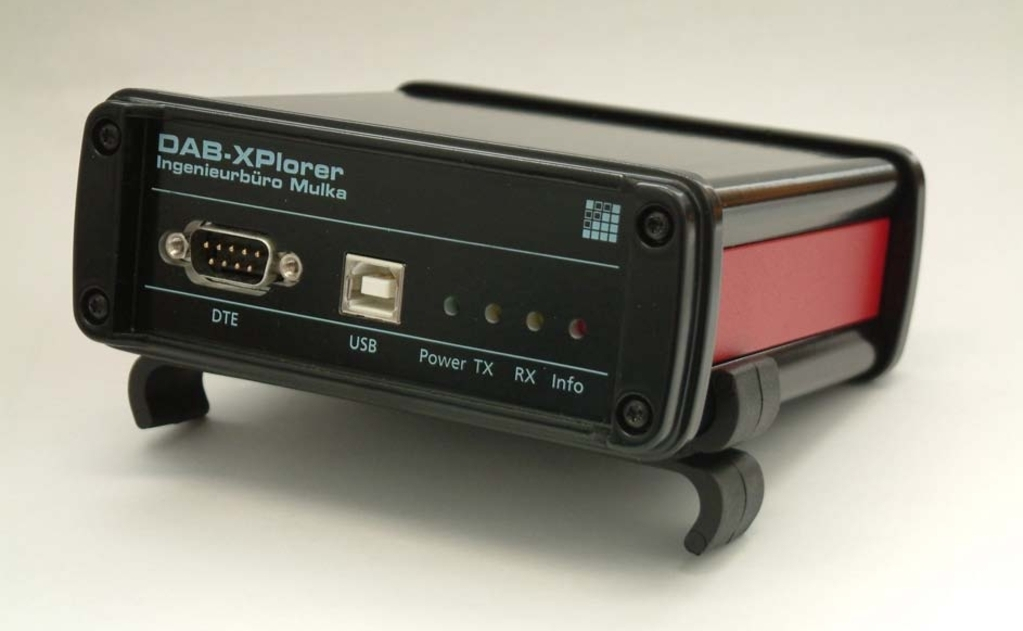 Features
Modular system consisting of hard- and software tools
Hardware ETI interface and receiver hardware available
Analysis of DAB multiplex on ETI, EDI and RF signal
Presentation of parameters in Google Earth
Measuring of synchronism in SFNs
Recording of ETI files from on-air signals
Applications
ETI analysis for broadcasters
Transmitter setup
Coverage measuring
SFN test
Test of transmitter components
Receiver test
Description
For historical reasons the term DAB-XPlorer stands for two things a) the DAB-XPlorer software suite providing a collection of software tools to analyse DAB data streams and b) for the DAB-XPlorer hardware providing an ETI/RDI-to-USB interface. Originally, both the software and the hardware have been one product, the DAB-XPlorer, developed and manufactured by Ingenieurbüro Mulka. In the course of the evolution of this product, the software was modified and extended to support additional hardware products from other vendors. At this time the DAB-XPlorer software suite supports and can be delivered with
the ETI/RDI-to-USB converter DAB-XPlorer from Ingenieurbüro Mulka,
all Ethernet interfaces that can be used to receive EDI data streams,
the DAB test receiver UEB400-DXP provided under the trademark VAD, and
the products of VDL's DABSTOR family.
The DAB-XPlorer software application is modular. The following tools are available:
Ensemble Viewer
ETI-XPlorer
FIC-XPlorer
FIC-XTractor
PRBS-Analyzer
Message Viewer
Recorder / Player / Timeshift Buffer
RDI-ETI-Converter
GPS-Campaign-Converter
Triggered Recorder
Together with the various hardware options, the software modules can be combined to support a great variety of use cases by broadcasters, transmitter network operators and manufacturers.
The DAB-XPlorer can be combined with BMT's TPEG Analyser.