SDMB100
Monitoring receiver for DAB, DAB+, and DMB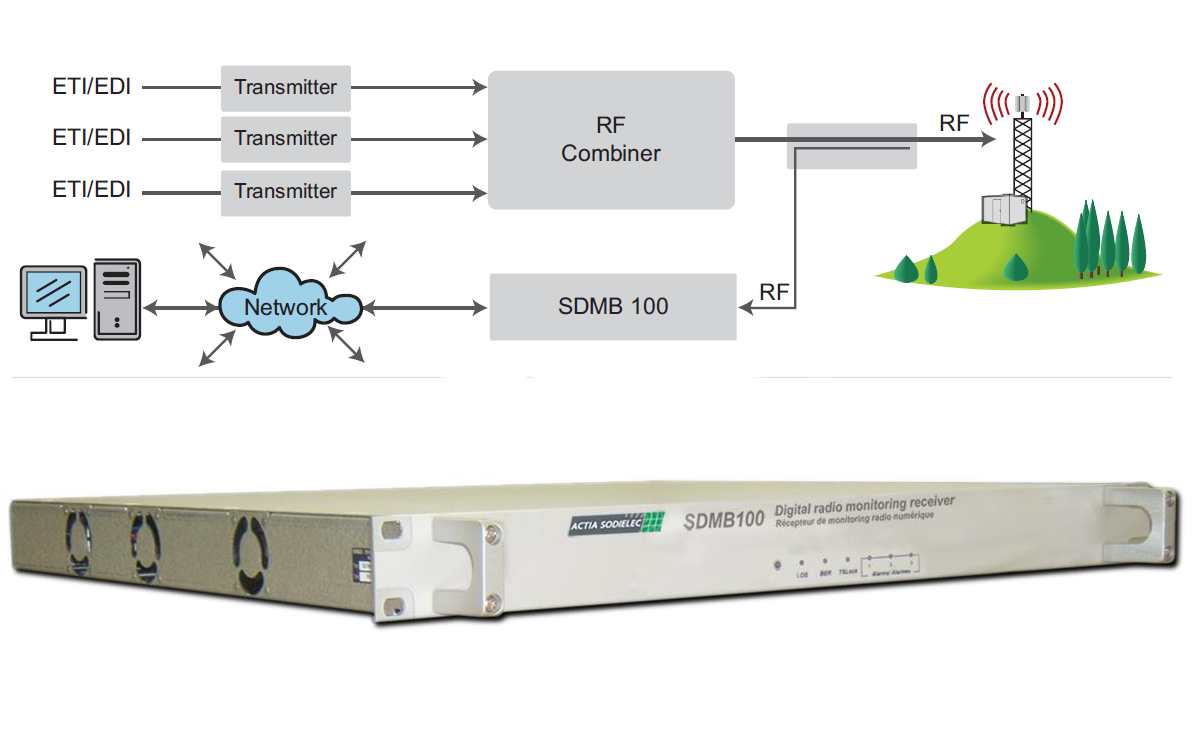 Features
Usable for EUREKA 147 DAB, DAB+, DMB
SFN drift monitoring at transmitter site
MER measuring
TII decoding
Monitoring of key RF parameters
FIC analysis
Sub channel analysis
Applications
Transmitter monitoring for DAB, DAB+ and DMB
To be used at transmission site
SFN network
Multi-channel monitoring
Description
The SDMB 100 is an affordable solution for the monitoring of DAB, DAB+ and DMB single-frequency transmitter networks according to the ETSI EN 300 401 standard family.
The device ensures the quality of service of every single transmitter in the network as well as the synchronism of transmitters in the SFN. Including a Web based remote control and a SNMP server, the SDMB 100 returns and logs real-time RF data and frame parameters.
The SDMB 100 monitoring equipment is destined to be operated at the transmitting sites at the monitoring output of the transmitter. Therefor the receiver comes with a high-level as well as with a low-level input. Its abilities to properly decode the transmitter identification information (TII), to measure MER, and the possibility to perform an ensemble scan across multiple DAB blocks transmitted from the same site are unique features.
In addition to the monitoring of RF parameters, its audio decoding with audio silence detection, its streaming capabilities and its FIC analysis enable in-depth surveillance of the transmitted services.
Its compact design as 1U rack unit, passive cooling, low power consumption, and high reliability make the SDMB 100 the optimal choice not only under economical but as well under environmental aspects.