OTS 731-2G
Redundant GPS disciplined frequency standard with 2x8 outputs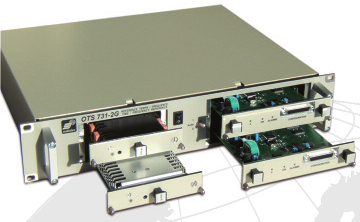 Features
Eight 10 MHz outputs
Eight 1 PPS outputs
Redundant GPS receiver
Redundant power supply
Seamless hot-swapping GPS and power supplies
OCXO with very low phase noise and high long-term stability
Self-monitoring and remote control with SNMP
Applications
Broadcasting: SFN synchronisation of DVB-T-, DVB-T2- and DAB transmitters
Telecommunications: GSM, GPRS, 3G, CDMA, WiMAX
Industry, laboratory, production: distribution of 10 MHz and 1 PPS
Description
With eight outputs for 10 MHz and 1 PPS, the OTS 731-2G is ideally suited for multi-transmitter sites. Up to eight systems (transmitters and/or monitoring devices) can be synchronised simultaneously with only one GPS reference.
Integrating high-performance OCXOs and GPS receivers with fast synchronisation, the OTS 731-2G meets the requirements demanded by current standards in terms of stability and phase noise.

Figure 1: Block diagram of the OTS 731-2G
The exclusive architecture of the dual redundant OTS 731-2G ranks among the most reliable ones in its class; each of two oscillator modules not only receives data from its associated GPS receiver, but also those of the other GPS receiver and the other oscillator module (see figure 1). The switch-over from one GPS reference to another is performed automatically and without phase jump. This dual redundancy allows to defer maintenance operations without affecting the continuity of service. With hot-swappable plug-in modules that can be changed without tools, maintenance costs are optimised.
Supervision and configuration are performed simply and intuitively through a serial interface on a PC dedicated software, or through an optional board with embedded HTTP, FTP and SNMP server.

Figure 2: Rear side of the device with 16 reference outputs, two GPS antenna inputs, and interfaces for remote configuration and monitoring